Recently we did our first Simpson Desert crossing and it was a challenging but awesome road trip and I can't wait to get back out there again.
Once you get into the desert there are no services or facilities so you have to be very well prepared and completely self sufficient.
Of course just like any road trip, we learned some lessons before and during the trip.
So here are my 10 best tips that I want to share with you and hopefully inspire you to get out there if you're undecided or help you plan if you've already made the decision to go.
Feel free to ask any questions in the comments at the end and I'll do my best to answer.
Want to see more?
Watch the film series about our trip 'South Australian Outback Adventure' which is available to watch Online - Click here for more info
1. Best direction to cross the Simpson Desert - West to East
The main route across the Simpson Desert between Dalhousie Springs and Birdsville is the French Line and QAA Line.
You can drive either direction but if you are looking for the easiest route, then drive west to east.
The reason is that the prevailing wind which forms the dunes comes from the west resulting in the western side of the dunes being a more gentle slope and the eastern side being much steeper and more difficult to climb.
With this being our first crossing and driving alone, I wanted to stack the deck as much in our favour as possible so we went west to east and I'm glad we did.
There were only a handful of dunes that we had to have a second or third run at to get over but it would have been a very different story travelling the other way.
Obviously if you're up for the challenge then east to west is there for the taking but just be prepared for a tougher drive.
2. Best time of year to cross the Simpson Desert
The best time to be in the Simpson Desert is April to October when the daytime temperature will be comfortable.
Nights will be cool to cold so make sure you carry plenty of warm bedding.
The crossing is closed completely between December 1st and March 15th due to the extreme heat.
3. Allow at least 4 nights to drive across the Simpson Desert
We spent 3 nights in the desert after Dalhousie Springs and before Birdsville.
This was part of our 20 day outback 'circuit' that took us up through the Flinders Ranges, Marree, Oodnadatta Track, Coober Pedy, Oodnadatta, across the Simpson to Birdsville then back down the Cordillo Downs Road and Strzelecki Track.
On paper, allowing 4 days / 3 nights to cover the 420km from Dalhousie to Birdsville seemed like enough time but in hindsight it wasn't.
It's hard to imagine that driving more than 100km each day could be a challenge, but it was.
The main issue is not so much the 1000+ dunes to cross but the fact that the track in between the dunes is like the moguls on a down hill ski run.
Consequently the vehicle is up and down and up and down constantly like a roller coaster and you just can't get any speed up.
So overall we averaged around 15 km/h of actual distance covered, meaning that we were looking at around 7 hours of driving per day on average to keep to our schedule.
This is certainly doable and we did it, but next time I'll build in an extra night or two so we can take it easy, have slower starts in the morning and find ourselves a camp at least a couple of hours before sunset.
Once you get out into the desert you find it to be a magical place and the last thing you want to be doing is rushing to get to the other side.
4. Buy your desert parks pass well in advance
A Desert Parks Pass issued by National Parks South Australia is required to enter and camp in:
Witjira National Park east of Dalhousie Springs
Simpson Desert Conservation Park
Simpson Desert Regional Reserve
All of which you will travel through crossing the Simpson Desert.
It also allows you to camp for up to 21 days at a time at these desert parks:
Innamincka Regional Reserve
Malkumba-Coongie Lakes National Park
Kati Thanda-Lake Eyre National Park
Tallaringa Conservation Park
The pass is valid for 12 months from purchase and comes with a permit, handbook with plenty of information and maps of the desert parks.
It's $182 but when you consider it covers the cost of camping as well, then you only have to stay a handful of nights before it's actually pretty good value.
With my long list of things to do in preparation for our trip, I had left 'Buy a Desert Parks Pass' pretty much to the last minute, or until a few days before we left at least anyway.
I was thinking that I would just jump online and pay the money and print out the permit, and the later I left it, the longer it would be before the 12 months expired.
What I soon found out once I got online was that it included the handbook and maps which needed to be posted so I needed to allow about 3 weeks for it to arrive!
That was obviously not an option so instead I bought ours at the Oodnadatta Pink Road House which worked out okay (it was $160 cash only).
So if you are planning to buy one online from the SA National Parks website, make sure you do so at least 3 weeks before you plan to leave.
Click here to order your pass as well as find out where you can buy one enroute.
Call National Parks on (08) 8648 5328 for more info
5. Carry about double your usual fuel usage for the Simpson Desert crossing
Driving in sand will have you revving higher and going slower than normal and you can expect to use significantly more fuel than you normally would for the same distance.
There are no services at all between Mt Dare in the west and Birdsville in the east so you'll need plenty of fuel to allow for the higher usage AND some in reserve for unplanned situations.
As a guide, our 80 Series Landcruiser with 4.2ltr turbo diesel averages around 17 litres / 100 km normally.
We left Coober Pedy with our main tank (90 ltrs) and long range tank (166 ltrs) completely full, so around 256 litres on board.
Travelling via Oodnadatta, Dalhousie Springs and across the French and QAA lines to Birdsville we covered around 814 km.
In Birdsville I filled up again and we had used 164 ltrs to get there from Coober Pedy.
164 ltrs for 814km = 20.1 litres / 100 km average
Overall pretty good considering the low speed high revving we were doing across the desert and the fact the Landcruiser was fully loaded.
Keep in mind though that roughly half of the 814km was fairly easy going between Coober Pedy & Dalhousie Springs so assuming my normal 17 litres / 100 km for that leg of the trip, it looks something like this . . .
Total Fuel Used Coober Pedy to Birdsville = 164 ltrs
Coober Pedy to Dalhousie 377km @ 17 ltrs / 100 km = 64 ltrs of the 164 ltrs used
Dalhousie to Birdsville 437km using 100ltrs = 22.9 ltrs / 100 km
That works out to about 34% higher fuel consumption than average for the Simpson Desert leg, which I'm pretty happy with.
We had around 90 litres in reserve by the time we arrived at Birdsville which is a comfortable amount and would have given us the capacity to detour or back track in the event of an emergency, track closure (rain etc.) or other unforeseen event.
If you don't have that much fuel capacity on board then you can fill up at Mt Dare. Mt Dare to Birdsville across the desert is approximately 510km.
6. Vehicles need a sand flag when crossing the Simpson Desert
Besides being common sense, it's now mandatory to have a sand flag on your vehicle when driving in the Simpson Desert.
The flag must be at least 300mm x 290mm and fluorescent red orange or lime yellow in colour.
If mounted to the front bull bar or front of the vehicle the flag must be 3.5 metres off the ground and if mounted to the roof rack, the flag must be at least 2 metres above the vehicle roof.
Once you get out into the dunes it soon becomes apparent why the flags are necessary.
As you're approaching the crest of the dune, the first sign you'll see of a vehicle coming up the other side is their flag waving around and this will give you time to move to the left and avoid a head on collision.
We use this modular 3 Piece Bushranger Safety Flag available from Snowys which attaches easily to the bull bar with a quick connector and packs up into a carry bag that's just over a metre long.
Motorbikes don't need a sand flag but must have their headlight on at all times.
7. Use UHF Channel 10 when crossing the Simpson Desert
Make sure you have a good UHF radio in your vehicle and keep it on channel 10 to communicate with other vehicles.
We found this is especially useful when approaching oncoming vehicles and we could volunteer to pull over and let them though if we could see a clearing on our side of the track or vice versa.
It's also handy to warn oncoming traffic on the other side of dunes that you are approaching the summit.
8. Carry a satellite communicator or PLB when crossing the Simpson Desert
There are no facilities, services or mobile phone reception between Dalhousie Springs and Birdsville, a distance of approximately 420km.
If anything goes wrong you are on your own.
Carrying a satellite phone or other satellite communicator (Spot Tracker, Garmin InReach) makes good sense.
If you don't have one of these devices and don't feel the need to rent one for the trip, then I'd recommend that at the very least you carry a Personal Locator Beacon like the Ocean Signal RescueMe PLB so that in the event of an emergency (accident, snake bite, serious breakdown etc.) you can send a distress signal to emergency services and get help.
9. Collecting firewood & campfires in the Simpson Desert
Crossing the Simpson Desert from west to east you will pass through three different National Parks/Reserves and each has their own wood fire restrictions.
The only park that allows wood fires is Munga-Thirri–Simpson Desert Conservation Park and Regional Reserve (South Australia) but keep in mind that collecting firewood is not allowed in any of the parks so if you do plan to have a wood fire then make sure you bring your own firewood.
Below are the specific details of each parks' fire policies and a link to their website if you want to check the latest information.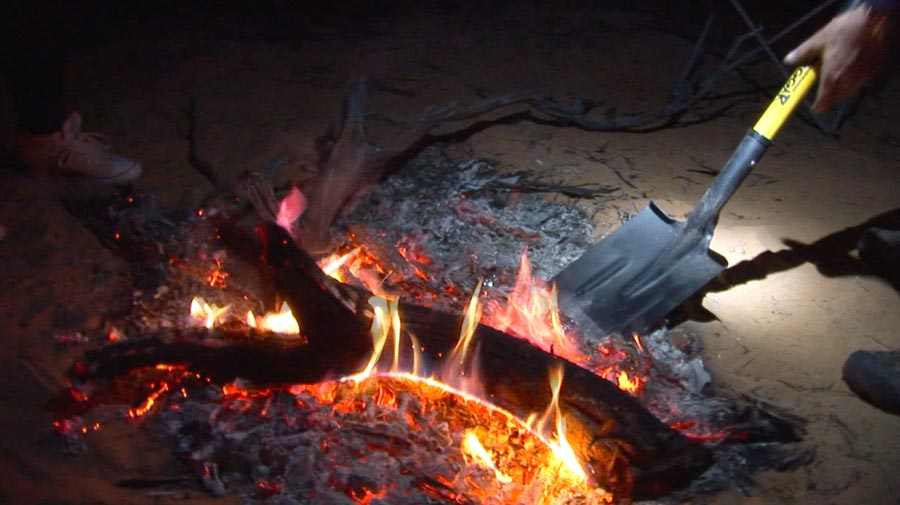 Witjira National Park (South Australia)
Wood fires are prohibited year round in all areas of the park except the Mt Dare Campground. However wood fires are also banned at Mt Dare from November 1st to March 31st.
Collecting firewood on your way through Witjira is also not allowed.
Alternative solid fuel fires are permitted in portable firepits, braziers or similar receptacles only, except from 1 November 2019 to 31 March 2020.
Munga-Thirri–Simpson Desert Conservation Park and Regional Reserve (South Australia)
Wood fires and solid fuel fires are prohibited between 1 November 2019 to 31 March 2020.
You must bring your own firewood, as the collection of firewood within national parks is prohibited.
Gas fires and liquid fuel fires are permitted through the year, other than on days of total fire ban.
The South Australian Government has a page dedicated to fire restrictions in SA PArks which you can check out here
Munga-Thirri National Park (Queensland)
The Queensland section of the Simpson Desert crossing runs through Munga-Thirri National Park and you'll be driving along the QAA line.
Fires are not permitted in the Munga-Thirri National Park (Queensland) at any time of year so make sure you have your own fuel stove for cooking.
10. Trailers are not recommended for crossing the Simpson Desert
While trailers are not banned in the Simpson Desert, they are actively discouraged from being taken and for good reason.
Driving up and over 1000+ dunes is challenge enough for vehicle and occupants without the added drag of a trailer.
Towing a trailer will require much harder revving and tyre spinning which will certainly take a toll on the track surface, making it harder for those following.
You'll may also find yourself needed to disconnect the trailer and winch or snatch it up seperately on the tougher dunes which would take the fun out of things fairly quickly.
Also, if your trailer breaks and needs to be recovered, it could cost thousands of dollars.
If despite that you do still want to take your trailer then I'd recommend driving west to east as it will be the easier way to go.
Additional Reading:
Watch our Simpson Desert Film:
The film series we made from our Simpson Desert crossing South Australian Outback Adventure is available to watch Online.
The 3 episode series will give you a first hand account of our trip, the challenges we faced and what to expect when you get out there.
You'll also get to see the Flinders Ranges and a decent amount of Outback South Australia.
HEMA Simpson Desert Map
Discover the Simpson Desert with detailed mapping, relevant points of interest and essential touring information for the journey. One side of the map covers the desert at a scale of 1:500,000, while the other is at 1:1Million for planning purposes. Marked on the mapping are roads and 4WD tracks checked by the Hema Map Patrol, distance markers, topographical relief and touring points of interest including 24-hour fuel, camping areas and caravan parks, facilities, services and more. Also included is information on travelling the desert, what you need for the trip and relevant contact information.