Your car's front windscreen does more than shelter you from the elements when driving.
Your car depends on your windscreen to be intact to help support the roof in a crash rollover situation, and also for the airbags to work at their best.
When a windscreen is damaged it doesn't have the same structural integrity at a time when you may need it most.
If it has been cracked or smashed completely, it is essential to seek immediate windscreen repairs or replacement.
It is never safe to drive with a damaged front Windscreen.
Large cracks and smashed glass prohibit a clear view of the road. Glass fragments can enter your car and may do injury to you and your passengers, and could lead to a more serious accident.
If the glass is totally smashed, it's important to remain calm and pull slowly off the road.
When safely stopped, assess the damage.
Only you know if it's safe to continue driving to the nearest windscreen chip repair and replacement workshop, or have the car towed to a repairer.
If you are in a remote area and have to drive, I have heard of people in this position cover the inside of the windscreen with clear adhesive tape to reduce the chances of glass fragments entering the car.
In this situation you would need to wear covered in or sealed safety glasses, keep windows up and drive at a slow pace till you can have it replaced.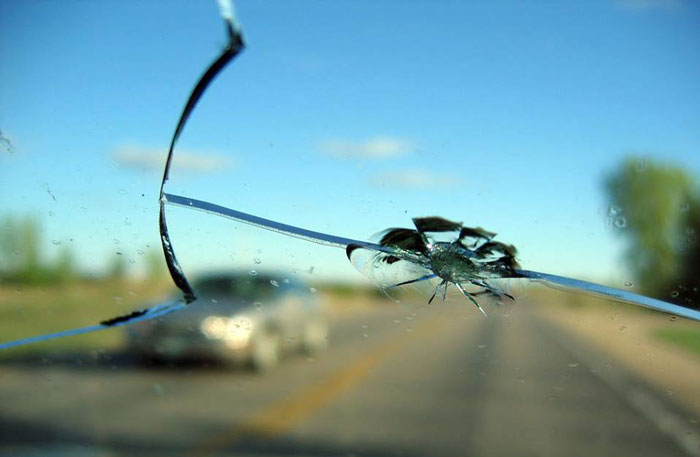 Do's and don'ts of chipped & cracked windscreens
Do's:
Measure the length of a crack. If it is under 10 centimetres, it may be repairable.
Place clear tape over the chip and cracks so that the area remains free of dirt, dust and moisture which can all reduce the chances of the crack being able to be repaired.
When a crack is in your line of sight, seek immediate windscreen chip and crack repairs.
Don'ts:
Don't park in direct sunlight. The heat may weaken the glass and cause the damage to become worse.
Don't ignore a large chip or crack. It can cause a serious accident.
Don't run the defroster or air conditioning on high when cracks or chips are present. This places extra pressure on the glass.
Avoid rocky roads and try not to slam the doors.
Don't pressure wash the car.
Don't fix major damage without professional assistance. A licensed professional knows how to effectively and safely perform windscreen replacement.
What to do when your windscreen is completely smashed?
Don't panic . . .
When a windscreen is smashed, usually by a rock kicked up by a passing car, you can expect it to be loud which can startle the driver and passengers.
It's essential to remain calm, slowly brake and pull to the side of the road.
Your windscreen will need to be replaced as a priority which is a job for the professionals to ensure the safest outcome.
If you can't get a windscreen replacement professional to get to you where you are, then you should have the car towed to a repairer.
Is it safe to drive with smashed windscreen?
No. It is never safe to drive with a smashed front window as your vision will be obscured and you risk being injured from broken glass falling into the car.
There are two types of windscreens available for use in most automobiles:
Laminated Glass - Most common
This contains two sheets of glass with a transparent plastic sheet in between the layers. This prevents pieces of glass from entering the vehicle when during an accident. When a stone hits this type of glass, shattering will not be an issue. However, a chip or crack that occurs may eventually spread.
Toughened Glass - No longer legal and not used in todays cars
This is manufactured with a unique heat treatment, which places the glass under stress so that it cracks into many granular shapes when struck. This prevents glass splinters from causing injuries.
Spare parts
Make sure you carry these spares to help you deal with any cracked or broken windscreen situation:
Clear packing tape to cover cracks or chips to keep them clean and dry and increase the chances of them being able to be fixed.
Clear plastic sheet to tape over any holes or gaps in the windscreen.
Leather rigger gloves (the ones in your recovery kit will do)
Safety glasses or sunglasses
Sharp blade to cut tape & plastic sheet
Conclusion
A car's windscreen plays an essential role in its safety. It is never wise to drive with smashed glass. When damage occurs, it is crucial to seek immediate windscreen repair or replacement from a reputable company. Knowing how to care for chips and cracks will increase your protection and help you avoid costly repair bills. For best results, contact an expert windscreen replacement specialist.
This article is supplied courtesy of A1 Windscreens
www.a1windscreens.com.au
With their two workshops in Hallam and Pakenham (Victoria), A1 Windscreens offer window tinting, glass scratch removal, and windscreen repair and replacement services for all types of vehicles.