In my last blog post 'How long does it take to drive around Australia?' I mentioned that we had set ourselves the goal on our Big Lap of reaching the extreme points of Australia . . north, south, east, west, the geographic centre and the highest point, Mt Kosciuszko.
We called it our 'Big Lap Extreme Challenge'.
I had a few people reach out and ask me more about the challenge so I thought, 'why don't I write a blog post about it' with the information you need to tackle it yourself on your Big Lap if you're up for it.
What is The Big Lap Extreme Challenge?
If you're planning a road trip around Australia then no doubt you'll have a bucket list of places you want to go.
Adding the extreme points of Australia to your bucket list will give you a mission and add an additional layer of adventure and purpose to your trip.
With the exception of Cape Byron which is the eastern most point, all of the extremes have some level of challenge to reach so you will feel like you've actually accomplished something as you tick them off your bucket list.
Tackling them also get's you to some of Australia's spectacular off the beaten track locations.
Do you need a 4WD to reach the extreme points of Australia?
Yes you do need a 4WD to reach at least two of the extreme points of Australia - the western extreme, Steep Point and the northern extreme, Cape York.
You could probably reach Lamberts centre of Australia in a 2WD but I wouldn't recommend it as there is a lot of potentially corrugated unsealed road to get to it.
What are the extreme points of Australia?
The extreme points of mainland Australia are:
North - Cape York, Queensland
West - Steep Point, Western Australia
South - Wilsons Promontory National Park, Victoria
East - Cape Byron, Byron Bay New South Wales
Centre - Lamberts Centre, Northern Territory
Highest Point - Mt Kosciuszko, New South Wales
Lowest Point - Lake Eyre, South Australia
Isn't the southern tip of Tasmania one of the extreme points of Australia?
The southern most point of Tasmania is called Cockle Creek and it is fairly easily accessible by car. It isn't technically the most southern point of Australia though.
Australia has many islands in our territory and the outer extremes of Australian territory are all islands that surround the mainland:
Northern most point is Bramble Cay
Southern most point is Bishop and Clerk Islets
Eastern most point is Steels Point on Norfolk Island
Western-most point is Flat Island off the coast of Western Australia
Even though we spent over a month in Tasmania on our Big Lap, for our Big Lap Extreme Challenge we are focussed on mainland Australia.
So let's look at them in more detail including how to get to them.
Northern most point of Australia - Cape York
The tip of Cape York in Queensland is the northern most extreme of the Australian continent.
To reach it you will need a 4WD as the Peninsula Development Road (PDR) which runs up the centre of the cape is virtually all unsealed north of Cooktown and the condition of the road can be unpredictable.
The PDR is being progressively upgraded and I think the goal is to seal it all the way to Weipa but north of the Weipa turnoff, you're on the Telegraph Road which is still very much unsealed and can be rough.
If you're up for some serious four wheel driving you can detour off the Telegraph Road and onto the Old Telegraph Track (OTT).
On the OTT you'll find numerous creek crossings with steep entry and exit tracks that can break even the most capable 4WD's.
The most famous crossing is at Gunshot Creek where you can choose one of the insanely steep entry tracks which you literally need to slide your vehicle down.
Not for the feint hearted!
The actual condition of the Old Telegraph Track varies from year to year and even within the season each year making it very unpredictable - and loads of fun.
No matter when you go, be prepared for deep river crossings by making sure you have a snorkel on your 4WD to reduce the chance of flooding your engine.
The actual tip of Australia is a small rocky headland about 35km from the northern most town of Bamaga.
You can drive to within about 1km of the tip and park in the shade then walk the final stretch over the rocky headland.
You'll know you've made it to the tip when you reach the sign that is embedded in the rocks and if it's peak season then you'll probably have to line up to get a photo opportunity.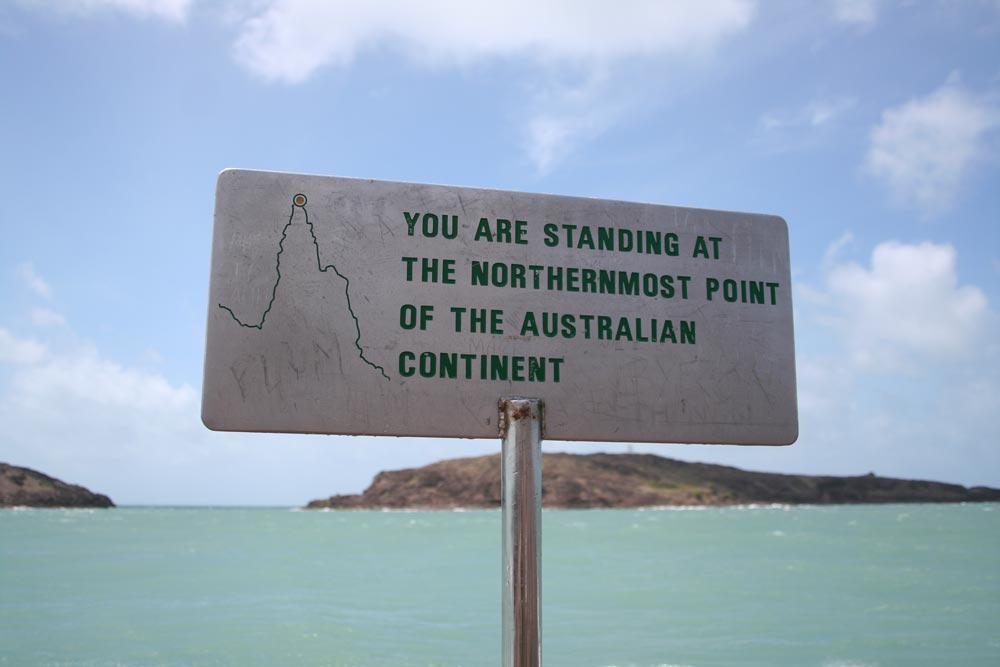 When is the best time to travel to Cape York?
The best time of year to visit Cape York is between April and October and you will find it is most busiest around the middle of the season.
If you want to avoid the crowds then plan to be there late in the year around October/November.
This is towards the end of the dry season and the river crossings will be at their shallowest.
Grab a detailed map of Cape York from Hema Maps
Western most point of Australia - Steep Point
The western most point of the Australian continent is called Steep point and it is at the end the Useless Loop Road in Western Australia.
Follow the road from Overlander Roadhouse towards Denham and Monkey Mia then turn off west again onto the Useless Loop Road and travel 145km to Steep Point.
From here onwards the road is unsealed and gets progressively worse the further west you go until you're driving on sandy tracks that wind their way through sand dunes that have some steep climbs up and over.
Allow at least 3 hours driving time each way once you get onto the Useless Loop Road, but get going early in the day so you don't need to rush.
You will definitely need a 4WD to get there and I would recommend not towing your trailer or caravan.
When you meet oncoming vehicle in the dunes as you may need to stop and reverse to allow others to pass which will be hard work if you have your van or trailer behind you.
You also risk getting bogged in the sand and there isn't much to winch off of besides other vehicles.
We actually got stuck on our way back from Steep Point behind a group of travellers whose trailer had broken and we ended up spending a couple of hours helping them to get it sorted out.
We left our camper trailer in the small caravan park in Hamelin but you could also do the same from Monkey Mia, Denham or Overlander Roadhouse then just day trip out to Steep Point.
Just like Cape York, there is a sign at Steep Point to let you know you've made it.
Like a lot of Western Australia's coast line, Steep Point can be quite windy and exposed and there isn't much shelter so if you are planning to have lunch out there, take your own shade and use your vehicle to block the wind.
Grab a map of Western Australia from Hema Maps
Southern most point of Australia - Wilsons Promontory National Park
The southern most point of the Australian continent is called 'South Point' and you'll find it at the end of a long walk in Wilsons Promontory National Park about 3 hours drive south east of Melbourne, Victoria.
The main town or village in the national park is Tidal River which is also where you can setup your base camp.
Most visitors come to Wilsons Promontory National Park for the bushwalking with big views of the coastline over Bass Strait
To access the southern point you'll need to plan either a very long day of walking, approximately 40km round trip, or do what I did and break it up with an overnight camp.
I got dropped off at the Telegraph Saddle car park which is a short drive from Tidal River, then started walking south along the Telegraph Track.
My wife Jen was pregnant at the time and our daughters Savanna and Sara were too young for a 40km hike so I went solo.
The Telegraph Track is actual a vehicle track for much of the way but it's closed to the public so you will need to get your boots on to get there.
The tip itself is a granite headland with sweeping views over Bass Straight and there is of course a sign to let you know you've made it.
About 2 to 3 km back form the tip is a campground called Roaring Meg which is a good spot to stay for the night before walking back the next day.
I actually detoured west on the way back to follow the track along the edge of Little Oberon Bay and back into Tidal River.
It's not a very difficult walk but there is some distance involved and some hills to climb so you'll need some fitness.
Download the Wilsons Promontory National Parks Map
Eastern most point of Australia - Cape Byron, Byron Bay
The eastern most point of Australia is Cape Byron right in Byron Bay and it's the easiest of all of the extremes to reach.
In fact you can drive on sealed roads and park your car at Cape Bryon Lighthouse Cafe and walk the last couple of hundred metres past the lighthouse to the lookout at the point.
It's also a nice walk from in Byron Bay itself.
Geographical Centre of Australia - Lamberts Centre of Australia
For many people Uluru is the spiritual centre of Australia and Alice Springs is the commercial hub of Central Australia.
But geographically speaking, the centre of Australia is point in the bush around 250km south of Alice Springs just off the road that runs between Kulgera and Finke.
There are a number of methods for determining the centre of Australia including the centre of gravity method, furthest point from the coastline (pole of inaccessibility), geodetic median point and Johnston Geodetic Station.
You can read about them in detail on the Australian Governments Geoscience Australia website.
For The Big Lap Extreme Challenge, the centre point that we are aiming for is known as Lambert Gravitational Centre
The site was located as a bicentennial project in 1988 by the Royal Geographical Society of Australasia and a monument and plaque erected to mark the location and named in honour of Dr. Bruce Philip Lambert, a former Director of the Division of National Mapping, for his achievements in the national survey, levelling and mapping of the continent.
The location was calculated from 24,500 points at the high water mark of Australia's coastline and the actual coordinates are 25°36′36.4″S 134°21′17.3″E
You can access the site at the end of a 14km track which runs north off the Kulgera to Finke Road, 21km west of Finke and 127km east of Kulgera.
You could reach Lamberts Centre in a 2WD vehicle but I wouldn't recommend it.
The Kulgera-Finke road is unsealed and can be rough and the track covering the last 14km is sandy twin track.
If you are in a 4WD and heading to Lamberts from Alice Springs you can also take the Old Ghan Railway track which runs directly from Alice Springs to Finke and is actually the race track for the annual Finke desert race.
Heads up though it can be very rough and corrugated but it's worth it to see some remote central Australian outback.
Highest point of Australia - Mt Kosciuszko
The final of our extreme points of Australia is the highest point of the continent, Mt Kosciuszko - although on our Big Lap it was the first of the extremes we ticked off our bucket list.
At 2228m above sea level, Mt Kosciuszko barely qualifies as a mountain compared with others around the world but it's the highest one we have and it deserves to be climbed, or more accurately, walked.
Mt Kosciuszko is in the Snowy Mountains in southern NSW and looms over the ski resort village of Thredbo.
Getting to the summit is a steady uphill walk along a well maintained track which you can access from either Thredbo or Charlottes Pass.
If coming from Thredbo the summit is a 5.5 km walk uphill but you can catch the chairlift to get you up and over the steepest part of the climb.
The other option is to park your car at Charlottes Pass and follow the track for approximately 10km to the summit.
During the winter months in the middle of the year the whole area will be under snow but outside of that it is easily accessible although expect that it can be extremely cold and could snow at any time of year.
I did the walk to the summit of Mt Kosciuszko with my Mum, Ros, who joined us for part of our Big Lap.
We were there in early December and had gale force winds and horizontal rain to content with most of the day which added an element of adventure to the experience.
At the summit you'll find a monument with a plaque to pose alongside for your photos.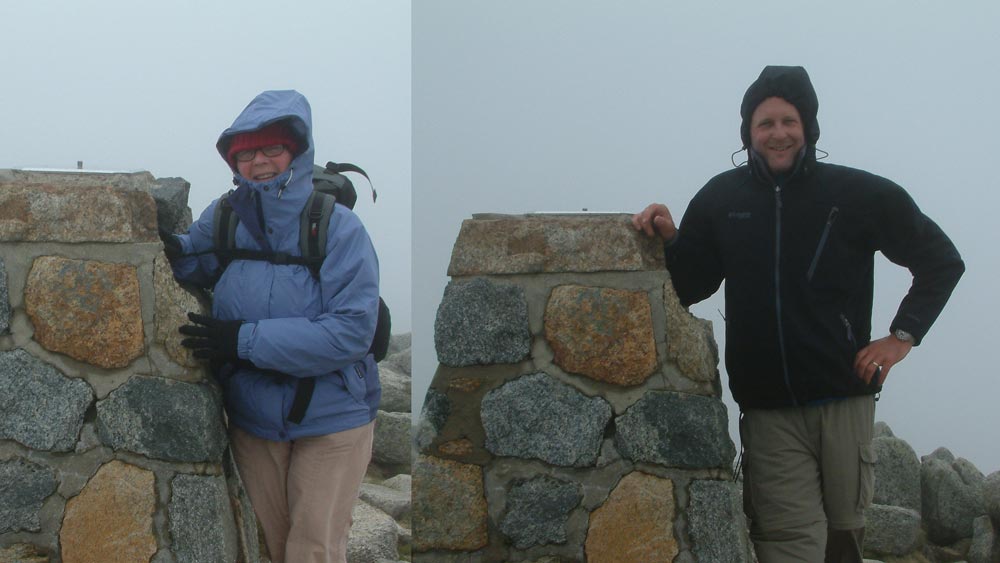 The lowest point of Australia - Lake Eyre
Most people don't generally include the lowest point on their 'extreme points of Australia' bucket list but if you're interested it going there, you'll find it in Lake Eyre in outback South Australia.
We had originally planned to include it but had to cut out the outback South Australia section of our trip to make up time after we rolled our Landcruiser in the Snowy Mountains, a couple of days after summiting Mt Kosciuszko.
Lake Eyre is a salt lake that is mostly dry but does fill up occasionally when heavy rain falls in southern Queensland and runs south west into Lake Eyre.
The lowest point of the lake is approximately 15 metres below sea level.
The easiest way to access Lake Eyre is at its southern edge along the Oodnadatta Track about half way between Marree and William Creek.
If you're heading north from Adelaide to the centre of Australia then I'd encourage you to head up through the Flinders Ranges and onto the Oodnadatta Track and you can easily include a stop at Lake Eyre along the way.
The video below is a trip I did with our dog Buddy where we travelled the Oodnadatta Track on our way to Lake Argyle in the East Kimberley.
Plan your Big Lap with The Big Lappers Guide Book & The Big Lap Film Series
To help you plan your Big Lap and your Extreme Challenge grab a copy of our Big Lappers Guide Book which is our 300 page step-by-step 'how to' manual to help you get from the idea of travelling around Australia to day 1 of your trip and beyond.
We're currently including lifetime access to stream & download The Big Lap Film Series which is the documentary of our 16 month Big Lap, including all of the extremes of Australia.