No doubt you heard the news a couple of weeks ago that the 'lunchbox' style butane powered gas cookers had been banned from sale in NSW by the NSW Office of Fair Trading.
I published an article about the issue only hours after it was announced and shared a link on Facebook and it went viral!
Over the following 72 hours we had over 300,000 visitors to this site (which I'm happy to say stood up to the massive spike in volume quite well).
Clearly this is an issue that people are concerned about - although based on the comments on the Facebook post and this website, most are more concerned about the ban than the potential danger.
You can read it for yourself here BANNED – Portable Butane Gas Stoves
In a nutshell, "Testing, undertaken at the request of NSW Fair Trading and other State gas regulators, has found a fault with the cookers' shut-off valves, posing a risk that the devices may overheat and could explode."
This followed the death of a 33 year old man at Casino's Glen Villa Resort, Nathan Kliendienst who sustained burns to 100% of his body when the cooker he was using in his caravan annex exploded.
NSW Fair Trading Commissioner Rod Stowe recommends that consumers "do not buy portable cookers of this type" and goes so far as to urge consumers to dispose of any currently in use.
While many people commenting are angry that we are becoming a 'Nanny State' and that people need to take more personal responsibility, it has since come to light that accidents with these stoves may happen more often than people realise.
Placing a pot, pan or hotplate that is too wide on the stove can cause the gas cartridge to overheat and explode.
Likewise, cartridges that are not seated correctly in the stove can leak and cause fires.
I contacted one of the largest importers of the stoves who sell them under a number of brands and asked them whether they anticipated the issues being fixed and a new 'approved' version being available at any point - unfortunately they were not prepared to comment.
So this leaves me wondering - now what?
It looks like most retailers have withdrawn the stoves from sale but I notice that many are still selling the butane cartridges. So those of us with stoves already can continue to use them if we chose (against the recommendation of the NSW Office of Fair Trading).
But how long will this last?
I suspect that if these butane cartridge powered stoves are discontinued permanently then it's only a matter of time before current stocks of the cartridges run out and are not replenished.
The bottom line is that we are going to need to buy new stoves.
Update: New compliant butane stoves now available
What are the alternatives?
The things that made the butane stoves so popular were:
Low cost - usually under $20
Simplicity - piezo ignition, disposable cartridges, no hassles with gas bottles
Compact - easy to throw a couple in the back of the 4WD or camper trailer
Ubiquity - you could buy them everywhere
Adjustability - for a cheap cooker they have a pretty good and adjustable flame, especially for low heat applications
Environmentally though they are not great - you would use and dispose of around 36 cartridges for the equivalent of a 8.5kg gas bottle which can be refilled. That's a lot of waste.
The last LPG powered gas stove I bought was back in the 1990's and it cost around $150 - nothing special, just a simple 2 burner unit.
We used this stove on our Big Lap trip and when that trip was over it basically got retired to the corner of the garage and replaced by the three butane stoves we'd bought along the way.
So I jumped online and had another look around to see what is currently available that would be a good replacement for the butane powered stove.
Here's what I found:
Companion Single Burner Stove
RRP: $34.95
Sale Price: $27.90 (at time of writing)
Supplier: Snowys Outdoors
This is a great replacement for a butane stove and at under 30 bucks, easy on the hip pocket. You still need a small gas bottle but no hoses necessary and the bottle doubles as a firm base.
---
Primus 2-Burner Deluxe Stove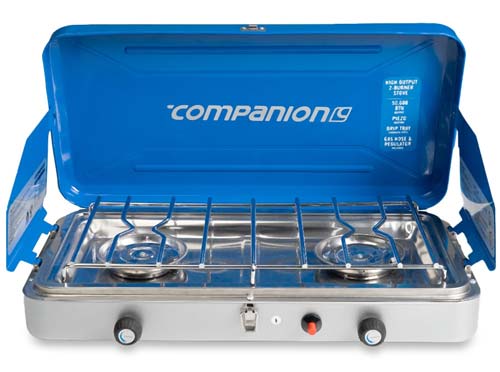 RRP: $249.99
Sale Price: $149.00 (at time of writing)
Supplier: Snowys Outdoors
With 2 burners and piezo ignition, wind deflectors and a gas hose supplied, this is pretty capable and relatively economical unit - about half the price of the one I bought 20 years ago.
This will work well with a small to medium sized gas bottle that has a 3/8" connector. It's also roughly the size of two of the butane stoves so aside from the gas bottle, no real extra space.
---
Companion Single Burner Wok Cooker
RRP: $139.99
Sale Price: $84.90 (at time of writing)
Supplier: Snowys Outdoors
If your cooking needs are more industrial then this unit looks like the way to go. I heard a number of comments over the past couple of weeks about people using their butane stoves for wok cooking but realistically a burner like this one that puts out up to 13,500 btu is going to do a better job without the risk of overheating.
It does need a regulated gas hose as well which will cost around $35 and a gas bottle.
Read more: Where to find cheap gas bottle refills
Have you considered ditching gas and going all-electric?
Battery power is becoming more and more popular with campers and adventure travellers and it can easily power an all-electric induction hotplate.
Watch this video below where I load test an Ecoflow Delta Max 2000 portable power station including cooking with an induction hotplate.