If you're planning a trip to the outback it's worth checking the road conditions that you can expect to encounter before you go.
Especially when many outback roads are closed following big rains.
To make it easier for you to plan your trips I've complied a list of each states road condition websites.
In an ideal world, all of this information would be compiled into one interactive map but with each state and territory being responsible for their own roads, we have a fairly long list of websites to visit.
So here they all are, including the National Parks websites as well.
Quick Links To Each State
South Australia
South Australia has a large network of unsealed outback roads and consequently the DPTI (Department of Planning, Transport & Infrastructure) has a web page with up to date information about all of South Australia's outback roads.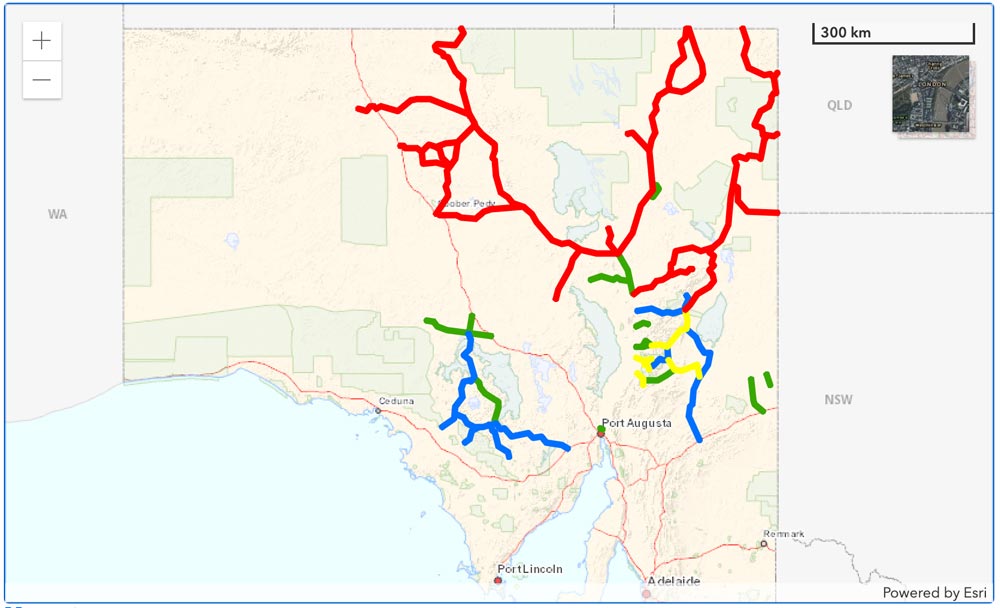 The site uses colour coding on the a Google map so you can see at a glance the current situation with the roads you are interested in and you can drill down for more detailed information.
National Parks South Australia has information about Park closures which may also be useful.
https://www.parks.sa.gov.au/know-before-you-go/closures-and-alerts
---
Victoria
Vicroads has an excellent system called VicTraffic which uses an interactive Google Map. Symbols denote different types of incidents and hovering over them with your mouse will quickly show what the issue is. There is also a list on the right side of the screen of all incidents and clicking on any of them will show you where and what the issue is on the map.
http://traffic.vicroads.vic.gov.au/
They also have apps for iOS and Android devices:
iTunes:
https://itunes.apple.com/
Android:
https://play.google.com/store/
Parks Victoria has details of road and track closures in the parks under their management which you can find here:
https://www.parks.vic.gov.au/get-into-nature/safety-in-nature/changed-conditions-and-closures
---
Tasmania
Tassie's roads are managed by the 'Department of State Growth - Transport' and their website has details of roadworks and other issues which could cause delays.
http://www.transport.tas.gov.au/
There are downloadable PDF files on the page that list all issues in the four corners of the state.
While most of the roads in Tassie are sealed, they are still subject to roadworks and wild weather and snow can cause unexpected issues so it is worth checking the site for the latest info on the roads you're planning to drive.
Forestry Tasmania has a page dedicated to Road & Track Closures on their site which is also a great reference:
For information about track conditions in any of Tassie's National Parks & Reserves, visit this page on their website:
https://parks.tas.gov.au/explore-our-parks/know-before-you-go/alerts
Tassmania Police also have a Community Alerts webpage where you can check for up to the minute updates about road conditions and other issues:
---
New South Wales
New South Wales has a system called 'Live Traffic NSW' for showing up to date information about road conditions that uses an interactive Google Map, similar to Victoria's VicTraffic system.
The interactive menu on the right of the page enables you to toggle on and off the various types of Traffic Hazards that you're interested in for the route you're intending to follow.
They also have a 'Live Traffic NSW' app for iOS and Android devices:
iTunes:
https://itunes.apple.com/
Android:
https://play.google.com/
Outback shire regions also have more localised information about the state of roads in their region which you can find at these sites:
http://www.centraldarling.nsw.gov.au/
http://www.bourke.nsw.gov.au/
http://www.cobar.nsw.gov.au/
http://www.wentworth.nsw.gov.au/
http://www.lachlan.nsw.gov.au/
http://www.carrathool.nsw.gov.au/
NSW National Parks and Wildlife Service has an Alert system on their website that provides up to date information about incidents like fires, floods and park closures.
http://www.nationalparks.nsw.gov.au/
---
Queensland
The Queensland Department of Transport & Main Roads has a live interactive map showing road conditions across Queensland.
https://qldtraffic.qld.gov.au/index.html
For information about conditions in any of Queensland's National Parks, visit the Park Alerts page on the Department of National Parks, Sport and Racing website:
---
Northern Territory
A great starting point for information about NT road conditions is on the NT.GOV.AU website:
https://roadreport.nt.gov.au/home
Here you will find links to all of the other sites that have information including NT Government managed roads and National Parks.
You can also jump directly to the Road Report Website which has a basic interactive map which you can drill down to see specific road condition reports in the areas you are planning to travel:
You'll also see in the menu on the left side of the page there are links to more detailed information about specific roads and regions.
---
Western Australia
Mainroads WA has an interactive map built on Google Maps with symbols you can click on the find out more specific local information which covers all of Western Australia.
https://travelmap.mainroads.wa.gov.au/