Australia has a reputation for being a pretty scary place . . .
Usually it is our wildlife like snakes and crocs that people are most worried about but with more and more people getting out and exploring remote regions of Australia, it's actually headlines like these below that we see more of.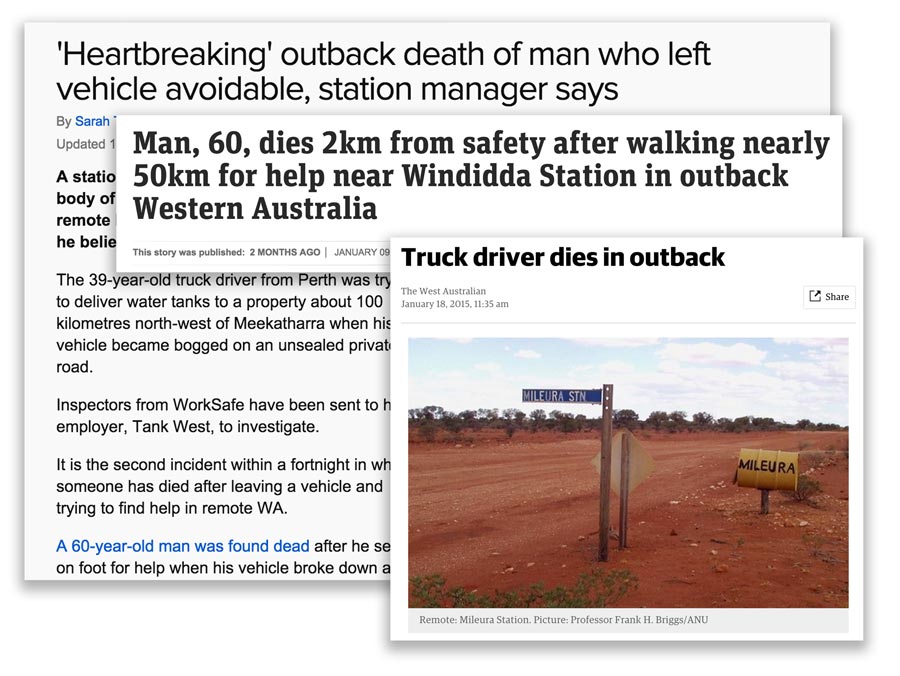 Worse still, in almost every case they could have been easily avoided with just a little bit of preparation.
Too many people go barrelling off into the outback assuming everything will be fine and then when something goes wrong, they are in trouble.
The golden rule if you breakdown or get stuck is . . .
STAY WITH THE VEHICLE
The reason is that your vehicle has resources, shelter and is easier to find by the people looking for you.
With this in mind, let's make sure that when you do get stuck, your vehicle does have the resources you'll need to stay alive and and get rescued quickly.
I've put a list of the 8 things that I think you should always have on board so that if you do get stuck (and it happened to us) you will end up with an interesting story to tell your friends, instead of becoming another tragic headline.
Note - when I say 'on board' I mean in your vehicle. If you leave your camp to go for a day trip then make sure these things go with you. No use being 100km away from all your emergency gear when you need it most.
1. 5 Days Supply of Water
How much water this is will depend on how many of you there are and how hot it is.
Assuming 2 litres per person for a cool day and 4 litres per person for a hot day (you won't be exercising and will be in the shade so this should be enough)
Mild weather: 4 people x 2 litres x 5 days = 40 litres (2 jerry cans)
Hot weather: 4 people x 4 litres x 5 days = 80 litres (4 jerry cans)
Ideally, have a water tank built into your vehicle and make sure it's full before you go.
Another easy option are the 10 litres boxes of water you get from supermarkets for $3 or $4 - they are an easy and cheap way to carry extra water as well as being compact and easy to store. When we are going on a road trip I'll often get 6 or 8 of them and stack them in the back of the Landcruiser up against the safety cage out of the way.
2. Sleeping Bags or Blankets
Many people are surprised by how cold it gets in the outback. It can be 30+ degrees in the day time and get to freezing or below at night.
If you head off in the morning in t-shirt and shorts and breakdown that afternoon, you could be in for a very cold night.
And you can't assume that you can always light a fire as there are vast areas of the Aussie outback that have no firewood or anything else of any consequence that will burn.
Sure you could start burning your car seats and spare tyre, petrol etc. but do you really want to be doing that on the first night when you'll probably be rescued tomorrow?
Just throw a sleeping bag for each person in the boot before you go and you can cuddle up in the car and keep warm and relatively comfortable.
Camping shops like Snowys Outdoors and even Kmart have cheap sleeping bags for around $20 to $30 that will do the job. It would be worth finding a place to store them permanently in your rig so they are always there when you need them, rather than having to remember to grab the ones off the bed in the caravan or camper trailer when you head out for a day trip.
3. Waterproof matches and lighter
If there is wood available around where you've broken down then you'll want a fire, both to keep warm and to signal for help.
Just keep in mind that wood and grass fires are pretty common in the outback and their smoke is usually white - to get attention you'll want black smoke and lots of it, so have a supply of plastic and rubber stuff on hand to throw on your fire to possibly alert passing planes or helicopters.
For the few dollars it will cost, the best bet is to keep a full box of waterproof matches and a spare lighter in your glovebox all the time for the time you need them. Alternatively you could put them in a zip lock bag like the photo above.
4. First aid kit (including snake bite bandage)
You probably have a good first aid kit in your caravan or camper but do you have one in your car?
Remember you could break down while out on a day trip a long way from camp.
Make sure that your kit has all the usual supplies and a snake bite bandage used for wrapping limbs that have been bitten.
5. Tent or tarp and rope
Being able to make a decent shelter from the sun and/or rain will dramatically increase your comfort levels and your prospects of survival.
Getting out of the sun will reduce the amount you sweat and therefore extend your water supplies.
If it rains you can use the tarp to catch water and channel it into your jerry cans.
If it's hot during the day you won't want to be sitting in the car and there are big areas of the outback with no natural shade at all.
A simple plastic tarp and 20 metres of nylon rope will enable you to rig some shade on the side of your car and if you can find a bright orange one like the one above then better still as it will be more visible from the air.
6. Shovel
A decent shovel is probably the single most valuable piece of recover equipment you can carry.
If you get stranded in the outback there is a good chance it is because you are bogged and don't have a winch or anything to winch off to get you out.
In most cases you will be able to dig yourself out.
It may take a while . . . it could take a couple of days . . . but it will be a whole lot easier with a shovel than your bare hands or a baked beans can!
I keep a long handled shovel and high lift jack permanently mounted to the side of my roofrack just in case.
7. A satellite emergency communication device
You would be forgiven for thinking that mobile phones will work in most places in Australia these days but that is not the case.
In fact the vast majority of the country still has no mobile coverage at all!
Once you get outside cities and towns the coverage drops away very quickly and you are on your own.
Fortunately there are several satellite communication devices that will work anywhere in Australia allowing you to send a distress signal if things go wrong and help will be on its way.
And with prices lower than ever before, there is no excuse not to have one on board.
PLB's (Personal Locator Beacons) and EPIRBS
PLB's or 'Personal Locator Beacons' like the RescueMe unit pictured are the default device for most travellers and the minimum equipment you should carry. When activated, they transmit a distress signal along with your GPS coordinates to the COSPAS-SARSAT satellite network which relays the information to your nearest SAR (Search & Rescue) authority.
This system is monitored and managed by the Australian Maritime Safety Authority (AMSA) which is a Government agency that is there specifically to help Australians in trouble on land or sea. There is no cost to use the service.
When they pick up your signal they will immediately coordinate local emergency services to come and help you.
The benefits of a PLB over other devices is that they are relatively cheap to buy, don't require any monthly or annual subscription and are lightweight and weather proof so easily carried anywhere you go.
PLB's have a powerful radio transmitter to communicate with the satellites above that is not adversely affected by trees and weather. Satellite phones and the Spot Trackers need a clear view of the sky to operate reliably.
Satellite Communicators
Devices like the Spot Gen4 Satellite GPS Communicator use satellite phone networks for one way or two way communication from everywhere in Australia via satellite making them functional as a communications tool as well as an emergency beacon.
Prices & functionality for these devices vary's significantly depending on their capability and all will require either a monthly or annual subscription plan just like your mobile phone.
If you don't need a satellite phone the at the very least carry either a PLB like the RescueMe or a messenger like to Spot Gen4.
8. A decent printed map or atlas
Remember those things?
They were pretty popular before the invention of in car GPS systems of all shapes and sizes.
But even if you are using a digital mapping tool day to day, having a set of paper maps or a decent road atlas like the HEMA Road & 4WD Atlas as a backup makes good sense.
Electronic gadgets run on batteries which can go flat quickly and if you can't run your engine (because it's broken) then you might find yourself without a map in a day or two.
They sometimes rely on an internet connection to download sections of maps you haven't previously downloaded which can also be an issue.
By being able to study a decent printed map you'll be able to see what is nearby that may be able to help you - dams, station houses, creeks for water etc.
Now you're staying with the vehicle of course but knowing there is a dam or a creek a kilometre down the track will be useful if you need more water.
Click here to see our recommended range of books and maps
Conclusion
Be prepared . . . stay with the vehicle . . . don't panic.
If you keep a cool head and take the steps before hand to cover yourself in case things do go wrong then you can pretty much sit back and wait to be rescued.
If not, then you run the risk of becoming another tragic headline.
Update
Since I wrote this article a few people have asked why I didn't include food on the list. The main reason is that if you have your satellite device like the Ocean Signal RescueMe PLB then help shouldn't be more than a day or two away and you're not going to starve in that time. Of course there's no harm in having a supply of calorie dense nut bars, chocolate etc. but the main focus is to get rescued quickly and be able to survive for a couple of days in extreme hot or cold conditions while waiting for help to arrive.